Asia Policy Dialogue 2017
The Asia Policy Dialogue (APD) 2017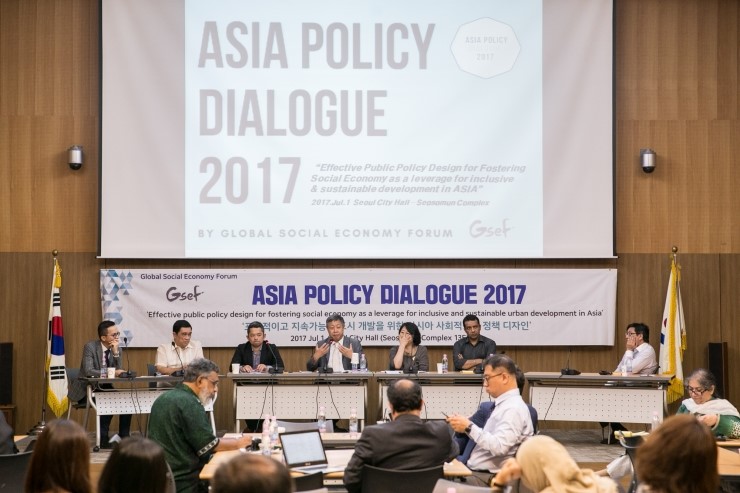 Date: 30 Jun – 1 Jul 2017 (two days event) 
Theme: 'Effective public policy design for fostering social economy as leverage for inclusive and sustainable socioeconomic development in Asia'
Venue: Seoul City Hall
Organiser: GSEF and Seoul Metropolitan Government 
Participants: 50~70 invitees including policy makers, elected officials, social entrepreneurs, practitioners and researchers from the Asia Pacific region. *(APD 2017 is by invitation only event)
Schedule: 
30 Jun (Fri) - Seoul social economy week events and networking evening
1 Jul (Sat) - Roundtables, keynote speeches and group policy case study
Language: English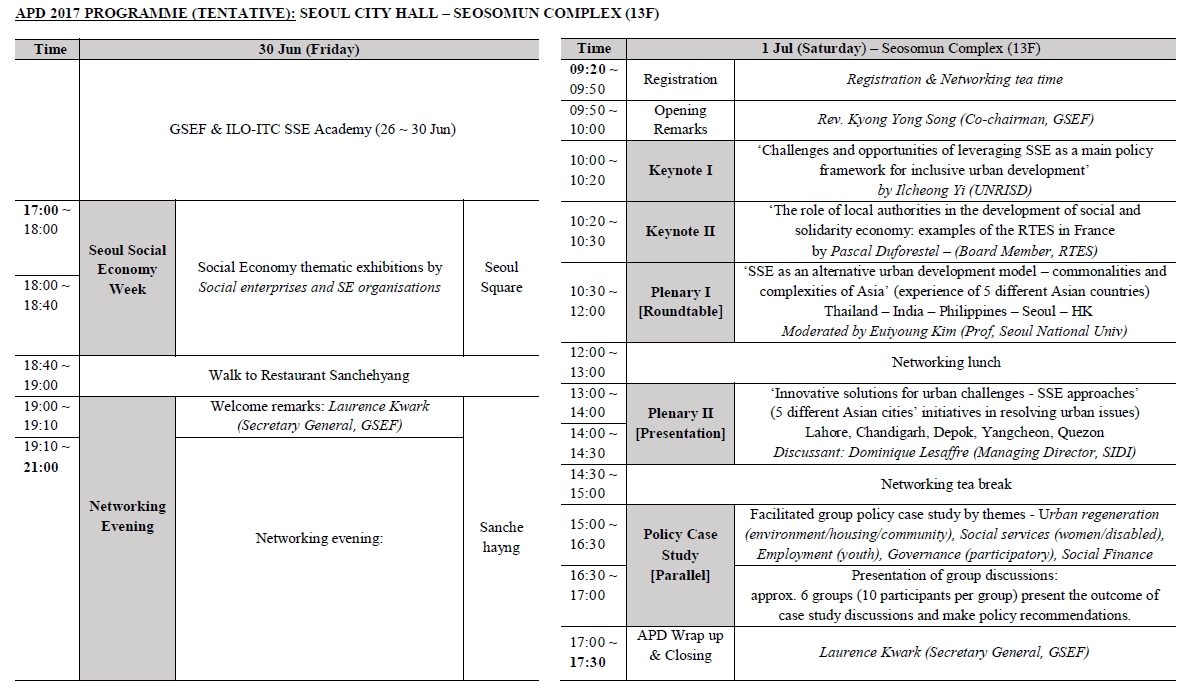 About APD
As a continuation of the previous editions of APD at the GSEF forums (2014, 2015) and the first APD event outside of Korea; took place in Hong Kong (2016) in partnership with the Asia Venture Philanthropy Network (One of the Steering Committee of the GSEF), BMW foundation and British Council which attracted more than 80 delegates from 15 different countries in the region,  the 4th edition of APD 2017 will be held in Seoul as back to back event with the GSEF-ILO SSE Academy 'Innovative ecosystem for SSE public policies – a contribution to the future of work (26 ~ 30 Jun)'.
The APD has played a key role in promoting knowledge exchanges between policymakers and practitioners in searching for the best ways of co-constructing public policies and establishing eco-systems for promoting the Social & Solidarity Economy (SSE) and social innovation to tackle various societal and urban challenges in Asia wherein social enterprises are increasingly playing a pivotal role in the provision of social services as well as serving as a catalyst for industrial innovations.
For two days, APD 2017 will offer participants from Asian-Pacific countries with diverse backgrounds to discuss regional policy initiatives for resolving imminent urban challenges through various activities and debates at the heart of one of Asia's most progressive cities of fostering SSE to achieve inclusive and sustainable socioeconomic development.